Picking out the perfect colour of white for your home can be tricky so we have picked the most gorgeous colours of white to brighten up your interiors!
We have curated our favourite white paint colours for you gorgeous people. So be sure to keep on reading to gain some inspiration on what colour to pick for your home! This includes a warm white, cool white & neutral whites so here at Oriana B, we are sure that there is a perfect colour of white for everyone!
Our Favourite Warm Whites for Your Interiors
In order to create a welcoming atmosphere, warm whites are softer and have a little bit of red or yellow in them which will create a relaxing atmosphere. This would be ideal for bedrooms & living rooms. Warm white would be amazing to use in north-facing rooms which have less natural lighting than south-facing rooms. We have chosen our favourite warm whites to use! 
Cream Tea by Colourtrend is an inviting colour that is perfect to uplift your home and provide a sense of sophistication to your space. Here at Oriana B, we think it's essential to create an atmosphere that feels at home. From Colourtrend, inspiration of the collection draws from Ireland's history with it's beautiful tones and accent colours which is the collection that cream tea is a part of. 
Warm White by Colourtrend is the perfect colour to give your space a hint of warmth without going overboard! It totally goes with lavender & navy hues! We love this colour of white because it helps blends in gorgeously with warmer tones within your home. 
North-facing rooms are perfect for colours like Warm White. This is because they tend to get less sun throughout the day, so they are naturally prone to shadows. This means adding warm white to the walls of north-facing rooms can reflect better. This will create the space into a more warmer and cosier room for you to relax in. 
Dulux's Designer Choice that complements 'Warm White' very well. The chosen colours on the left is 'Lovely Lilac' & right is 'Midnight Jewel'
Our Favourite Cool Whites for Your Interiors
Cool Whites complement clear and deeply saturated colours so by using cool tones will help bring a clean look to any room. Sunlit room best match with cool tone whites as they balance out natural sunlight which is typically warm. Painting a space with your chosen cool white can help bring your favourite artwork to life and make it pop! 
 3. Classic White by Colourtrend
Classic White by Colourtrend is the perfect clean and timeless colour that can be pair with any colour scheme in your home. Whilst keeping your home cool, it can help change the atmosphere with colourful home pieces. If you have a room that gets a lot of sun exposure, using cool white paint colours will help to cancel out the warm tones. We love this classic white paint colour as a base to brighten any room! 
An example of 'Classic White' in a lovely elegant and classic space with pink & black tones! Picture: Colourtrend
Crown's Pampas White is a very cool white that can balance out your home. Great paired with a cooler colour scheme in your space. Cool whites like Pampas White has hints of grey, blue and violet in them which help to create a gentle & easy going look especially for a room that gets a lot of sunlight. 
Our Favourite Neutral Whites for Your Interiors 
Neutral whites are very versatile, they tend to work with variety of colours whether they be warm or cold. Neutral paint colours have little to no undertone or even greyish undertones so it's perfect to create any atmosphere to your space!
Linen by Dulux is a lovely neutral that can keep your home feeling comfortable. Linen White has warm undertones that help keep things from looking to pale and contrasting. In natural lighting, it might get a little bit too yellowish for the room but in rooms that don't get a lot of natural light will find that Linen will be the perfect colour for your space!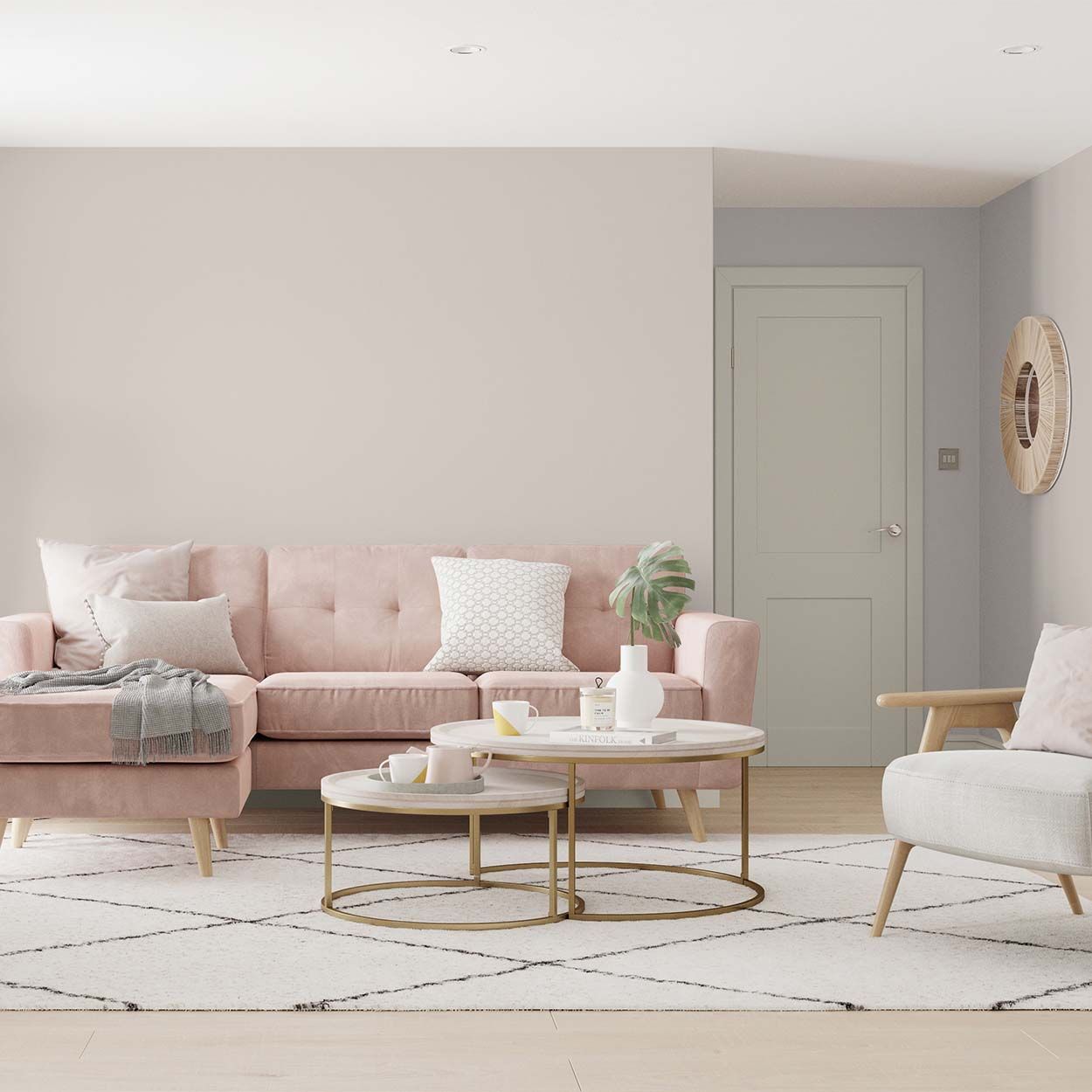 Dulux's Linen White paint colour in a pink & neutral themed room
Bali Sand by Colourtrend is this lovely earthy white colour that is perfect for bringing in neutral tones. Bali sand has green undertones which makes it a great white to pair with earthy tones. Here at Oriana B, we love mixing earthy tones with one another to create a cosy and chill atmosphere.
Colourtrend's Bali Sand looks perfect in a bathroom space to liven up with earthy undertones. 
7. Dairy Parlour by Colourtrend
Dairy Parlour is a gorgeous white colour that goes with earthy colours to brighten up your space. This colour is a part of the historic collection, which brings the heritage of Ireland to life with Dairy Parlour. 
Dairy Parlour is the colour that matches blues and brown interiors!
Bright & Clean Neutral Colour to lighten any room. Stonework was selected as part of the Weather collection by Colourtrend! It works well with the Irish Landscape as the earth pigments of Stonework blends perfectly with any room or home. 
The Colourtrend's Stonework Paint colour is beautiful for any exterior or interior of your home!